Collaborative Research And Training in the European Health Psychology Society – The Early Career Researcher Network of the EHPS
At CREATE, we also aim to host webinars relevant to early career researchers in the domain of health psychology.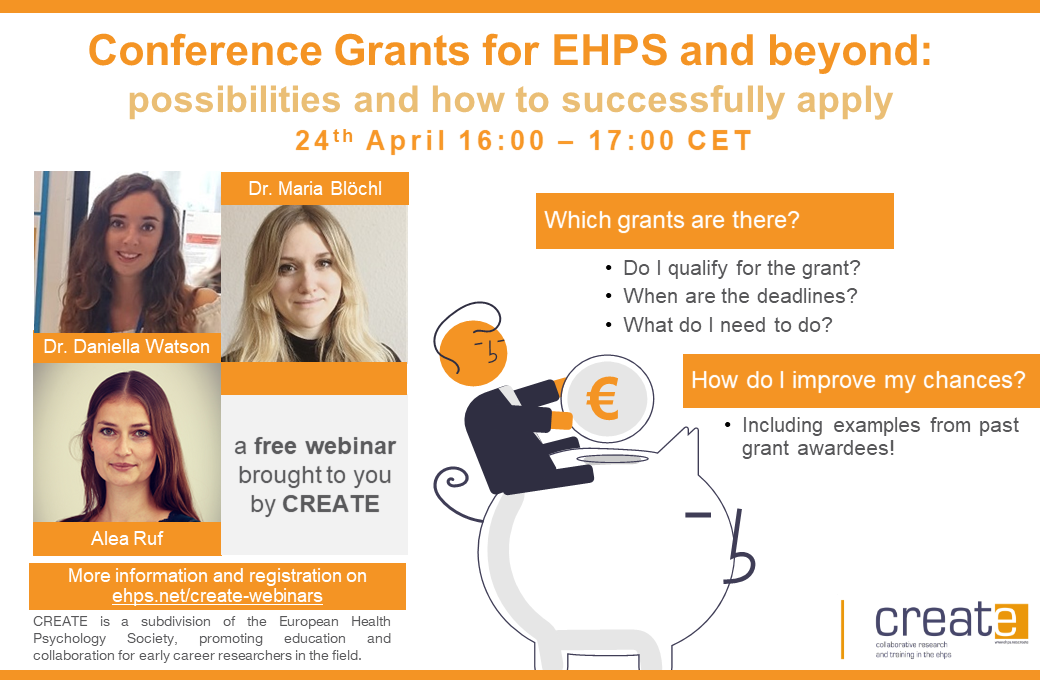 April 24th 16:00 – 17:00 CET
How to apply for EHPS and CREATE grants
Dr Daniella Watson
Dr Maria Blöchl
Alea Ruf
During this webinar, you will learn about the various EHPS grants that are available for conference attendance and how to improve your chances of being awarded a grant. Our facilitators will share their experiences and insights on what makes a strong grant application, what the selection criteria are, and what to expect from the review process. You will also have the opportunity to ask questions and interact with the speakers. This webinar will provide valuable guidance on how to navigate the EHPS funding landscape. Of course, many of the topics discussed will also translate to conference grants outside of EHPS.
The webinar is free to attend, but registration is required.
June 29th 16:00 – 17:00 CET
How to prepare for attending the EHPS conference: What you need to know?
Maya Braun
Lauren Gatting
This webinar is tailored for first-time attendees and those who may benefit from further guidance and preparation for the EHPS conference. Our facilitators Maya Braun and Dr. Lauren Gatting will cover topics such as networking before, during, and after the conference, understanding the EHPS "vibe" including what to wear, what to bring and active social groups, and other opportunities CREATE offers such as Meet The Experts, Flash Talks, and social activities. Additionally, we'll share tips for balancing the number and type of sessions you attend and explain the important role of SIGs in EHPS. Don't miss this opportunity to maximize your EHPS experience! Stay tuned for further details on registration and other information. More information and registration will follow.
The Person-Based Approach to Intervention Development
Dr. Kate Greenwell (University of Southampton, UK)